Top Rated Southwest Florida Fishing Guide
5 Star Rating on Google, Facebook & Tripadvisor
Boca Grande Offshore Fishing Charters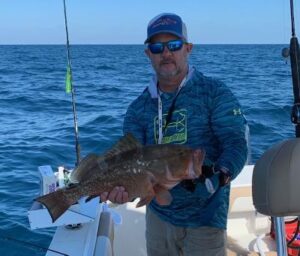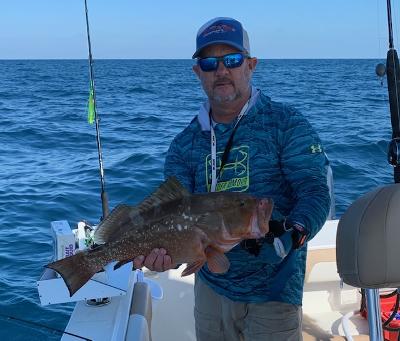 On our Boca Grande offshore fishing charters, aboard our 2021 33' Parker Center Console with twin 300 HP engines, we take up to 5 guests. Trips range from 20-60 miles out depending on the length of the trip you choose and we will be bottom fishing, as well as possibly trolling and drifting bait. The Gulf Of Mexico offers a wide variety of fish and structure, therefore as a result, our offshore fishing charters send us fishing over rock ledges, reefs, and wrecks. Our target species consist of Snapper (Mangrove, Red, Lane, Vermillion, Yellowtail) and Grouper (Red, Gag, Black, Scamp). Additionally, other possible species include Trigger Fish, Cobia, Mahi-Mahi, Barracuda, Porgies and many more. However, fish size and species can be impacted by the distance of your trip. Contact Capt. Jeff if you have any questions.
The ride out can range from a 1-2 hrs depending on the length of your trip and this can change with conditions. Offshore trips are action packed and you will leave with great table-fare fish. In addition, bait, tackle, and fishing licenses are all included and we clean your fish too. Book Today!!!  
*****NOTICE*****
NOAA has closed the harvest of Red Grouper & Gray Triggerfish effective September 15th 2021 and will remain closed through the end of the year. We will still catch but will have to release for another day.  We still have many other fish we can harvest. Lane Snapper, Gray Snapper, Vermillion Snapper, Gag Grouper, Scamp Grouper, Yellowtail Snapper and others.
What to expect at the different lengths of trips.
5 Hour trips (nearshore) cover approximately 20 miles in distance.
Typical catches include Mangrove Snapper, Lane Snapper, Vermillion Snapper, Yellowtail Snapper, Squirrel Fish, Key West Grunts, Red & Gag Grouper but a lot of short Grouper at this distance. This is a trip for guest that want to experiance offshore fishing but stay a little closer to shore and aren't looking for some of the bigger fish. A great trip to get out and do some bottom fishing and we normally always bring home some fish for dinner.
8, 9, and 10 Hour trips we fish 35 + miles miles and are considered a true offhsore experiance. More time is more fishing is the only difference. Typical catches are Mangrove Snapper, Lane Snapper, Yellowtail Snapper, Vermillion Snapper, Red Snapper, Red, Gag, Scamp, & Black Grouper, Porgy, also at times Mahi-Mahi, Cobia, Kingfish and more.  You never know what you may pull up on these trips. A great trip to have a chance a fighting some bigger fish and put some delicious fish on the table
9 Hour American Red Snapper Trips During Season June 1st - August 3rd 2021. 40-60 miles offshore . We will be targeting Red Snapper during the open season on these trips. Also Grouper, Lane Snapper, Gray Snapper and many more
**If you have any questions. Please contact Capt. Jeff to discuss before booking a trip. 
Fishing Safely and Legally
To clarify, Captain Jeff is one of a few SW Florida Captains that has the required permits to fish legally in the federal waters with clients. Therefore, he has the advantage of taking customers out past the 9 mile state waters where the fun begins. These permits, known as Federal Reef Permits and Pelagic Permits, have an initial cost of upwards of $25,000 and there are a limited number available.
Safety equipment and more
Our vessel always has Type-1 offshore life jackets with the required whistle and light, first aid kit, VHF radio, 72 mile range open array live radar, Epirb Gps location device, Satellite phone, Spot Satellite Messenger, NOAA GPS monitoring system, flares and other safety equipment on board. Remember you get what you pay for -- safety and experience are priceless!!
All offshore trips are weather permitting, therefore trips sometimes get cancelled or rescheduled. Capt. Jeff makes the final call the day before the trip. Capt. Jeff has many years and training of forecasting sea conditions and weather and will make the safest decision because safety is our #1 priority.
*Additional Note
In addition, on offshore charters, children under 13 years old are required by law to wear a life vest. Therefore, it is recommended that you bring their own life vest to ensure that it properly fits your child. If you don't bring one, a child's universal life vest will be provided, but sometimes they aren't as comfortable. Contact Captain Jeff if you have any questions, please.
Boca Grande Inshore & Backcountry Charters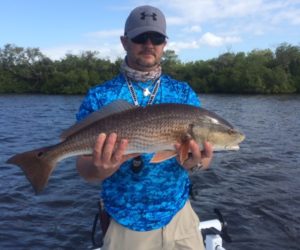 On our guided Boca Grande inshore and backcountry fishing charters, you will ride aboard our 18' Shallow Sport tunnel hull. We allow up to 2 people to fish the shallow protected waters in and around Gasparilla Sound and Charlotte Harbor. We primarily fish the mangrove shorelines and the abundant grass flats of Florida's beautiful southwest coast. Our objective is catching Redfish, Snook, and Seatrout on these trips. Artificial baits and lures, as well as live and cut baits, are used depending on the fish bite and your angler skill level. Since we remain in protected waters, these trips also offer plenty of opportunities to experience the beauty of our undeveloped shorelines. As a result, we will encounter an abundance of wildlife that makes these waters home, including Egrets, Bald Eagles, Ospreys, Dolphins, Manatees, and much more.
**NOTE**Redfish & Snook are closed for harvesting until May 2022 in Southwest Florida. Trout were opened in June 2021 but Captain Jeff is not harvesting Trout at this time to allow our fishery to flourish. Therefore these fish can still be caught but will have to be released
Boca Grande Nearshore Fishing Charters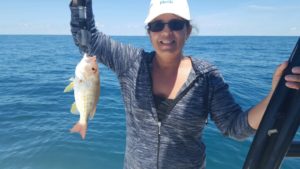 Our Boca Grande nearshore fishing charter is a trip for the group that wants to experience offshore fishing but wants to stay a little closer in. You will still enjoy the Gulf Of Mexico and catch some fish as well. We will generally fish 15-20 miles out on these trips. Therefore, the ride out to the fishing grounds is 30-45 min. At this distance typical catches include Lane Snapper, Mangrove Snapper, Red Grouper, Gag Grouper, Grunts, and Squirrel fish. In addition, Shark, Bonita, Kingfish, Barracuda, and Amberjack are possible catches. At this distance the fish are sometimes smaller and not all keepers but we get a few for dinner and it's always a great time on the water.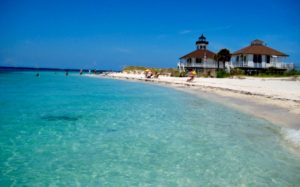 Create Your Own Perfect Trip
If the trips above are not exactly what you are looking for, we can customize a trip just just for you. For instance, we can accommodate large groups with additional boats and trusted Captains. In addition, to our single boat trips.
It's your time and we cater to you, even if you aren't into fishing but would like to enjoy time on the water. For instance, how about sightseeing or enjoying a beautiful sunset, or maybe shelling on a remote beach or sandbar, or even lunch at one of our many island restaurants? These are just a few more ideas, however the possibilities are endless. Give us a call and we will design your perfect day on the water.
Book Your Boca Grande Fishing Charter Today
Whats included in my trip
Bait, tackle, fishing license, federal permits, and fish cleaning if desired are included.
Reservations require a $100 deposit.
The captain may postpone or cancel trip due to poor weather conditions or other reasons at his discretion. Trips cancelled by the captain will receive a 100% refund.
The captain will email you within 48 hrs of your reservation with an itinerary of your trip including all the details.
A full refund is issued for all trips canceled with at least 7 days notice. However, inside of 7 days the deposit is forfeited, and for no shows the day of charter you will be charged the full amount of trip on the card you used for deposit.
Things not to bring- Bananas, Glass Bottles, All Black soled shoes!!!!, Boots, and Crocs are not allowed. You will need to go barefoot if you dont have non marking shoes. Firearms, nonprescription drugs, Cannabis even with prescription is not allowed in Federal waters. Aerosol sun block. GPS units, smart watches, and Go Pros are not allowed aboard. Cell phones must be off before leaving dock. The Capt can take any photos and send to you after trip.  If GPS signal is picked up by our system trip will be cancelled and full amount will be due. If you are not sure of cell phone GPS, then I would recommend putting your devices in a faraday signal blocking bag during trip which I have on board.
If you have any questions please contact me.
Things to bring- Drinks, snacks, a small cooler, a hat, rain gear, sunglasses, sun block (non aerosol), non marking white soled shoes  and Dramamine if prone to motion sickness or not sure (follow directions on the box).
Gratuity is not included in your trip (Customary is 20% the cost of your trip)
Trips depart from Gasparilla Marina. Please arrive 15 min prior to scheduled departure.
Red Snapper trips in season (normally June 1st - Aug 3rd are only the 9 hr trip listed as Red Snapper trip
Up to 5 guest are welcome on our offhsore trips but at times only 4 lines will be allowed in the water at one time